A small, but distinguished audience yesterday (Friday 13th, 2013) attended the All Saints Anglican Church around the Queen's Park Savannah to bid farewell at the funeral of legendary sprinter Emmanuel McDonald Bailey, who died on December 4, just days short of his 93rd birthday.
In attendance were President of the Republic Anthony Carmona, Sport Minister Anil Roberts and Trinidad and Tobago Olympic Committee president Brian Lewis.
Bailey's life and exploits as a sprinter were celebrated by friends and family. Granddaughter Zo-Mari Tanker said Bailey was nicknamed "Mac", "Maco" and "Macocious", names which paid tributes to a man great in many ways.
President of the Republic, Anthony Carmona, centre, Minister of Sport Anil Roberts, second right and president of the Trinidad and Tobago Olympic Committee Brian Lewis, right, at the funeral service for the late athlete McDonald Bailey at the All Saints Anglican Church, Marli Street, Port of Spain, on Friday. —Photo: Ishmael Salandy. Source: Trinidad Express
In his time, Bailey was a holder of world records. He was also a family man, an avid dancer, and a "joker" as well.
"Grandad Mac loved his family," granddaughter Zo-Mari Tanker said.

Bailey was born on December 8, 1920. He was an Olympic bronze medallist for Great Britain at the 1952 Helsinki Olympics, and also created history in 1946 by winning both the 100 and 220 yards at the British Open AAA Championships. He amassed a total 15 British national titles, including seven sprint doubles and one relay between 1946-1953. He appeared in the Guinness Book of World Records many times, for holding the greatest number of national athletic titles by any athlete. Bailey held a world record of 10.2 second in the 100m, established in Belgrade Yugoslavia in 1951. It held until 1956. Bailey also held the British All Comers record for the 100 yards (9.6 seconds) as well as the European 100 metres (10.20) record between 1946-1953.
He was awarded the Chaconia Gold Medal in 1977 in recognition of his contribution to sport. Bailey was also an associate member of the Institute of Journalists, London, worked for the BBC and wrote columns in the Trinidad Express and the Catholic News.

Basil Ince, former T&T government minister, ambassador and sprinter, described Bailey as "vintage, and said his record as a sprinter was legendary. Ince said Bailey was a world class sprinter and the only reason he chose to run for Britain at the time, was because he was unsure whether Trinidad and Tobago would have an Olympics team.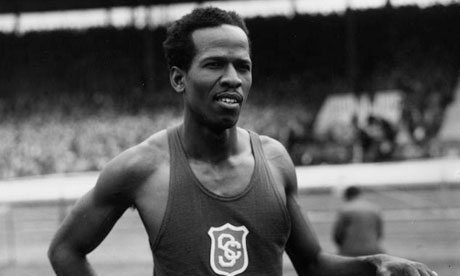 Sprinter Emmanuel McDonald Bailey during the AAA Championships at White City London Photograph: Topical Press Agency/Hulton Getty
"He was the first Trinbagonian to reach the Olympic final. The first to win a medal at the Olympics," Ince said. "When he toured Europe in the late 1940's and early 1950's, he was as popular as the great Learie Constantine."
Giving the homily, retired Bishop Clive Abdullah spoke of the need for people to make preparation and not fear their inevitable death. One's life on earth, he said, was all that was done between birth and death.
"We fear death because we are brought face to face with a battle we simply cannot win. We are brought face to face with a foe we cannot defeat," Abdullah said. "We do not prepare ourselves, far less our loved ones for the day when we will die. Get it done when you are fully aware...fully awake."
Following the funeral, Bailey's body was taken for cremation at the Cinerary at Long Circular Road, St James.
Article Source: Trinidad Express