As part of its ongoing drive to provide quality facilities for sport and recreation at community level, the implementation arm of the Ministry of Sport handed over the El Dorado Gardens Park to the people of El Dorado through Tunapuna/Piarco Regional Corporation on Monday. The works at the Park took approximately 6 months to complete and included a complete grading and levelling of the field, planting of grass, construction of a cricket pitch, reinstallation of play park equipment and the installation of 2 bleacher stands, two control barriers and ballasts around the Park's perimeter.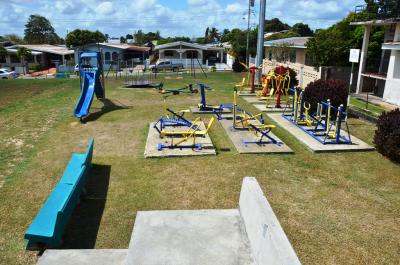 The Honourable Anil Roberts, Minister of Sport hailed the Ministry's implementation agency SPORTT, for their quality work in ensuring that communities have access to recreation facilities. "I know the people who live in these communities are extremely grateful for the opportunity to access and enjoy the appropriate venues for sport and recreation. This is all part of the Government's efforts in all sectors to develop safe spaces where sporting talent can be nurtured and where critical family and community ties can be forged."
Present at the handover were officials of the Ministry of Sport as well as the Chairman and Works Supervisor of the Corporation. Chairman Edwin Gooding praised the work done, saying although the ground was small, it was an integral part of the close-knit community and should facilitate an even more harmonious atmosphere. Project Manager Carlton Romain said the Park was primarily used for school cricket and small goal football, serving the needs of the small community.
The picturesque ground is completed surrounded by houses, making it very intimate and cosy. Residents are reported to be very happy with the upgrade, especially the levelling of the ground which was uneven and awkwardly graded. Further, the ballasts and control barriers are a protection from persons who may park vehicles or do other damage to the outfield which has been newly laid with grass. The Park can also be used at night, as lighting towers were recently installed by T&TEC as part of their nationwide Lighting Programme.
As of 1 April, the Tunapuna/Piarco Regional Corporation will takes control of the maintenance of the Park and its amenities, with guidance from the residents. El Dorado Gardens Park is the latest in a series of handovers which the Sports Company intends to conduct during the year.
Article Source: news.gov.tt